Three things separate
Banquet Services from other companies!
---
First
,
we create a "state of the art"sales booklet with unparalleled quality including foil stamping, die-cutting, and a personalized theme.
Secondly
,
we are responsible for the design, writing, typesetting, printing, and selling of ad space while you simply approve editorial and advertising.

Lastly
, we equip you with an award winning sales tool to present to your clients absolutely free!
---
OVERVIEW
In 1991 Robert Hansen, founder, originated and developed the concept of customized full color banquet and wedding planners. His vast experience in advertising from San Diego to New York enabled him to form a new division of his now 32-year-old printing company and appropriately named it Banquet Services, Intl.
Banquet Services then immediately opened offices in 6 major market areas, first in New York & San Diego, then Boston, Miami, Houston & New Orleans.
This instantly successful concept soon became a industry standard! Launching an entirely new advertising medium.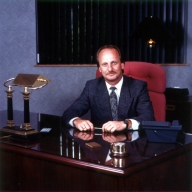 Robert Hansen
Founder & President
These booklets carry photos of their perspective banquet facilities and include menus, floor plans, and other information essential to planning any major event. The uniqueness of this product is including vendors specializing in wedding & social services that would help underwrite the cost of this endeavor through display advertising. This makes it possible to provide these beautiful & informational booklets virtually at NO COST to the facility!
EXPERIENCE
Banquet Services International and Hotel Publishers, Inc. have produced wedding and banquet books for hotels and caterers throughout the USA, Hawaii, Alaska and Mexico. Founded in 1976 as Hansen Enterprises, Inc., Banquet Services International boasts a client list of over 2,500, including Princess Resorts, Omni Hotels, Sheratons, Marriott's, Westin's and many other hotels and banquet facilities. Our professional sales, design and production teams rank second to none.
QUALITY
Each and every booklet is designed by an award winning graphic designer and features a unique layout while incorporating a personalized look that is coordinated with your representative. Our print capabilities include four-color printing, die cutting, foil stamping, hundreds of lettering styles and the highest quality cover stocks. Our dedicated staff ensures the highest of quality control standards from planning to in-house printing to delivery right to your door.
SERVICE
Banquet Services sales representatives cover territories from Florida to California, Texas to Ohio, virtually anywhere in the United States. These sales professionals will work one-on-one with you every step of the way. Our goal is to develop the finest quality sales tool for your facility in a timely manner and, of course, at absolutely no cost to you. By designing and printing at our site, our staff is always accessible to you for any questions, ideas or changes.